This guy is the new Catholic bishop of Kosova.
Dode Gjergji
, born in Stublla, lives in Ferizaj/Urosevac.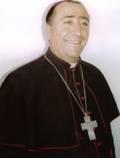 UN administrator urges speedy decision on Kosovo's future status
International Herald Tribune - 14 hours ago
AP. UNITED NATIONS: The UN administrator in Kosovo urged the Security Council to make a speedy decision on the province's future status, warning that any delay beyond January will raise tension and play into the hands of extremists.
Kosovo to draft statute of independent state
Peninsula On-line - 17 hours ago
pristina, Serbia • Kosovo said yesterday it would start writing a state constitution, despite major international powers delaying a decision on the Albanian majority province's bid for independence from Serbia.
KOSOVO: INDEPENDENCE 'ONE OF POSSIBLE SOLUTIONS' SAY UN SECRETARY ...
AKI - 6 hours ago
New York, 14 Dec. (AKI) - United Nations secretary-general Kofi Annan has told the Security Council that the positions of Kosovo ethnic Albanians and Serbs remain diametrically opposed on the status of the
...
Non-Serbs in Kosovo not worried about status
Southeast European Times - 3 hours ago
Most non-Serbs minorities in Kosovo are concerned about economic and security issues. These groups are not concerned with the province's final status.
Kosovo Post and Telecom sues Norwegian Telenor
ECIKS.org - 2 hours ago
Prishtina, 14 December 2006 - The PTK sued the new owner of Serb Mobtel, Telenor, asking for €400m compensation, KTV and dailies report.
technorati tags:Kosovo, Kosova, UN, Annan, Gjergji, Vatican
Blogged with Flock